This post will be a little different as I will be reviewing my favorite pieces of outerwear for this fall. I apologize for not posting more often, but alas I have been busy.
So here goes...
As autumn approaches and the temperature dips, something magical happens. You can start wearing layers, which often includes a jacket/coat of some kind. I am a huge outerwear advocate, I feel that what you wear as your top layer, really says something about your personal style. If the outerwear you choose is classic, you can wear it every season or every other season for years to come.
So let's begin...
1) The Denim jacket.
I have one from American Eagle - it was $ 49 and they no longer sell it. So I can't post a picture nor a link - sorry. I love my AE denim jacket, it was really cheap and the fading/distressing is perfect.
Luckily, Levi's makes a trucker jacket that is both trendy and classic at the same time. So this is my Get suggestion. You can find it at Zappos for $68.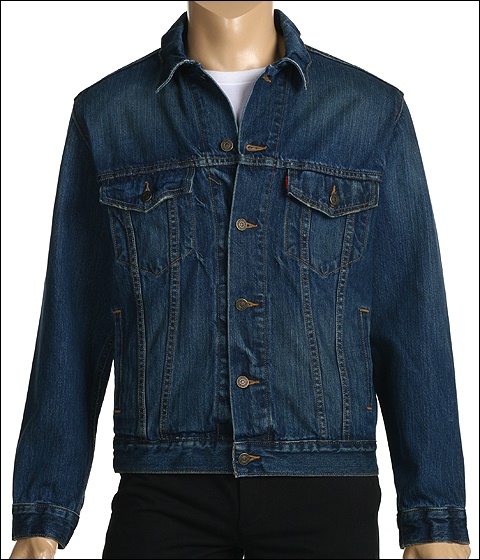 (photo courtesy of www.zappos.com)
Please, if you want to try to pull the denim over denim look, be my guest, but my suggestion is to wear this piece only with khakis or slacks that are not denim or denim-colored.
2) Military-inspired Jackets / Field Jackets / Waxed Canvas(Cotton) Jackets
I put these three in the same category because I think they are interchangeable looks. You can put any one of the three over what you're wearing, and you won't see a dramatic change. The waxed canvas jacket is especially useful as it will repel rain. I personally own a Barbour jacket which is now being sold through J.Crew. J.Crew also carries the venerable brand, Belstaff. The Belstaff Trialmaster (below) is a beautiful jacket but you have to shell out $695 at J.Crew. Even the Barbour equestrian jacket that I bought in 1998 ran me $400. These jackets are a bit prohibitively expensive.
I really like J.Crew's version of the waxed canvas field jacket, called the Oilcloth Langham. Notice below how important layering is in looking fashionable? He's wearing a t-shirt, Levi's denim jacket, brown khakis and the Langham jacket ($198).
(photo courtesy of www.jcrew.com)
3) Moto jackets.
Want to look like you ride a Ducati? But actually you've got an unlimited Metrocard? It's cool, let me refer to nylon Moto jackets. Leather Moto jackets are wonderful, but you often have to spend closer to a thousand bucks. That's why I am recommending nylon ones, like this one by Diesel (called the "Jurlo" about $150).
You can dress it up with a v-neck sweater or down with a t-shirt but it must be worn with jeans.
This look is being pushed by many labels this fall, so any rendition of this style will work. If you see a version made by Gap, Banana, etc., I recommend picking one up. As long as it is classic looking (dark colors, no branding, no weird pockets/zippers).
My personal favorite is this one by Moncler (the "Georges" about $575).
I like that it is navy and that it is made by Moncler is an added bonus.
I have to confess, I own this jacket, I bought it on sale for about U$ 180. I was so amazed by the discount, I had to snag it. It is one of the gems of my collection and I will be wearing it again this fall. So needless to say, it is quite difficult to buy this jacket (they are quite scarce now).
**Bonus**
Last but not least, I am recommending a jacket made by LL Bean. It is called the Maine Lodge jacket and I love it. I am particularly drawn to tweed this fall and this jacket comes in brown and gray herringbone as well as this cool looking plaid. It is $159 and I think it is snazzy as hell. LL Bean runs roomy so size down. It's got a Thinsulate lining so it will take you deep into the fall. I really like the rustic feel of plaid and herringbone. I think designers agree as is a prevailing trend for menswear this fall. So this ends my fall outerwear review, I hope that I have inspired you to add something special to your closets this fall.
(
Photo courtesy of www.
llbean
.com)